Foundations
The Nick Traina Foundation was established a year after my son Nick died, at 19, eleven years ago.
Three weeks after his death by suicide (on his fourth attempt in 11 months), I began writing a book about his life, and struggle with bi-polar disease, to honor him. He was a talented musician and singer, lead singer in a successful band, extraordinary writer and lyricist, he had had a career in music since his mid-teens, and went on several national tours. And he had had a lifetime battle with bi-polar disease. I wanted to share with others what a wonderful person he was, and the struggles he had been through. For others either living with the disease, or loving someone who was, I wanted to offer my honesty and support. The book about him is called "His Bright Light."
With the proceeds of the book, we established the Nick Traina Foundation, to fund organizations that offer hands on help to people with mental illness. We wanted to add our efforts to suicide prevention, and the prevention of child abuse, another cause that has always been important to me, to protect children. In addition, because Nick was a dedicated musician, we wanted to assist organizations that help musicians struggling with mental illness. We tried to focus on issues that were important to Nick, and to us as well. There is now a scholarship at the SF Conservatory of Music in Nick's name.
The foundation has been in existence for ten years, and has done some wonderful work. The proceeds from the book continue to go into the foundation, and we are dependent on donations as well, and people have been very generous with us to support our work.
Also, to raise funds, once every two years we held a gala event, The Star Ball, attended by numerous celebrities, with a star musical act to entertain, a dance band, and a celebrity M.C. (Gary Collins, Peter Coyote, and Sharon Osbourne, over the years). The entertainment has ranged from Barry Manilow to Ray Charles to Mariah Carey. And the last Star Ball in 2006 was a dazzling event where Elton John performed, Sidney Poitier spoke (and came to surprise me—I was deeply touched and blown away, as he is a beloved friend), and Sharon Osbourne was our M.C. It was hard to top, and this year, instead of doing the gala, we decided to keep our overhead down, and ask people to contribute without a ball. And the response of our supporters was deeply gratifying.
Over the years, an amazing number of stars have attended the Star Ball, and it was a very popular event, held in San Francisco at the Ritz Carlton and covered by a lot of press.
It always touches me deeply that Nick has indirectly helped so many people, both through the book about him and through the foundation, which has assisted so many people.
Pictures from the Star Ball: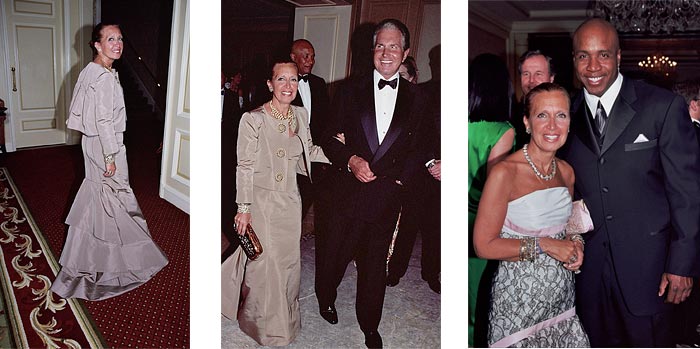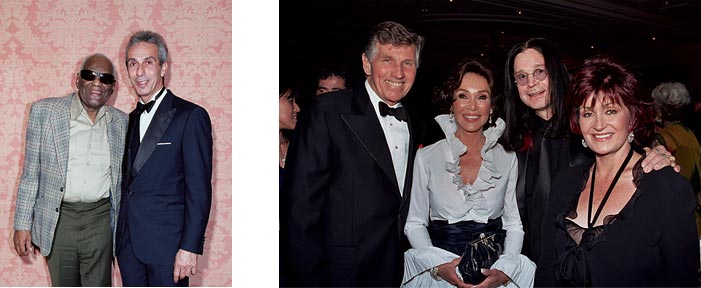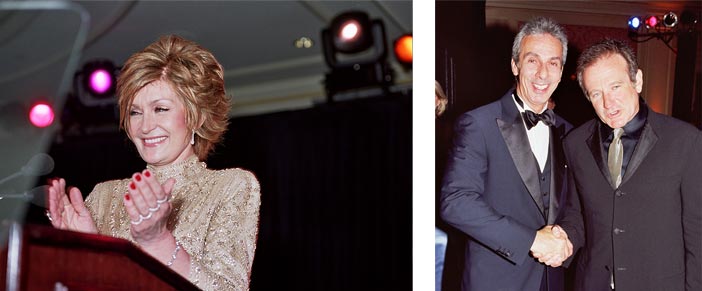 photos by Thomas Gibbons
The second foundation inspired by Nick is called Yo! Angel! It was founded about two years after his death, and is an outreach team that I formed with ten other people, to serve the homeless, and reach out to them where they are. Working on the streets with the outreach team for years has been an extraordinary gift in my life. It changes your life forever, and certainly has changed mine.
With four vans full of supplies, we have cruised the streets looking for people in need, in order to find them where they are. Our clients are those in the most extreme need, who are unable in most cases to seek help, so we bring it to them, in the form of warm, dry, new clothing, tools, bedding, food, and hygiene supplies. We have served roughly 3,000 people a year for almost ten years, which means that once again, because of Nick, 30,000 homeless people have received help. That's a far reach for one young boy, and his brief life has been a gift to many.