A Note from Danielle for March '11
There are some interesting holidays in March: Mardi Gras, which always seems like fun to me, although I've never been in New Orleans for it. And St. Patrick's Day, which I have no claim to, since even by the remotest stretch I have no Irish relatives, but I spent three great weeks in Ireland several years ago. Both of these events are very festive, and people seem to enjoy them, whether related to them or not.
Just as exciting is the beginning of spring, on the calendar, and in some parts of the country, where winter is finally losing its grip. In some of the cities where I live, it's still pretty cold, although California is starting to warm up, and if you get out of the cities, everything is a lush green. And I think the beginning of daylight savings is exciting, too. I LOVE the longer days, and hate it when we turn the clock back in the fall. So I can't wait for daylight savings to start, with the longer sunny afternoons.
I hope that spring comes to your part of the world now, and that it feels like a time of rebirth for you, as the weather gets warmer, flowers bloom, and the days are longer. It is a hopeful time of year. And don't forget that my book BIG GIRL is coming out in paperback this month. I hope you enjoy it!!
Love,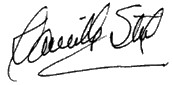 Get a sneak peek at Danielle's latest novel, 44 CHARLES STREET.