A Note from Danielle for March '11
I am so excited to announce the launch of my brand new global website! On the newly renovated DanielleSteel.com, you can learn about all the books I have published throughout the years, read monthly notes from me, and discover my latest novels. I hope you like it! Thank you, as always, for spending time with me and the characters I create.
Big Girl is now on sale in paperback, and stay tuned for my newest novel, 44 Charles Street, available on April 4th! Wishing you all the very best.
Love,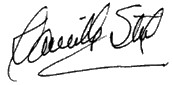 Get a sneak peek at Danielle's latest novel, 44 CHARLES STREET.