About Danielle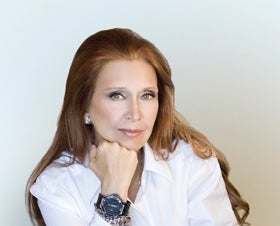 Danielle Steel has sold 650 million copies of her books internationally, and every one of her books is a bestseller. She is published in 69 countries and 43 languages.
Steel's latest novel is The Duchess. Other recent bestsellers include Against All Odds, The Mistress, Dangerous Games, Rushing Waters, Magic, The Apartment, Blue, Precious Gifts, Undercover, Country, Prodigal Son, Pegasus, A Perfect Life, Power Play, Winners, First Sight, Until the End of Time, The Sins of the Mother, Friends Forever, Hotel Vendome, Happy Birthday, 44 Charles Street, Legacy and Family Ties, all of which have leapt to the top of the Best Seller list, the Wall Street Journal list, and comparable best seller lists around the world.
Steel has written more than a hundred novels; 18 children's books, including Pretty Minnie in Hollywood and Pretty Minnie in Paris about her white long-hair teacup Chihuahua; four works of nonfiction – such as His Bright Light: The Story of Nick Traina, A Gift of Hope: Helping the Homeless, and Pure Joy: The Dogs We Love; and a book of poetry. She also founded and runs two foundations, one named in honor of her late son, The Nick Traina Foundation, which finances organizations involved in mental illness and child abuse, and the second established to assist the homeless. In 2002 Steel was decorated by the French government as an "Officier" of the distinguished Order of Arts and Letters, and she has written the lyrics for two albums currently being recorded in France. She is the mother of nine children.
Steel lives in San Francisco and Paris, which inspired many of the scenes in PRETTY MINNIE IN PARIS.
For more information about Danielle and her books, visit www.daniellesteel.net. Follow Danielle on Twitter, @DanielleSteel. on Facebook, http://www.facebook.com/DanielleSteelOfficial.